Chimayo
チマヨプエブロはサンタフェの北東約38km、タオスから南へ64kmの所にあります。静かなこの街は、信仰と織物の街です。織物の作家が多く住み制作活動を続けています。
そのデザインはスペインから渡ってきた模様に、この土地古来からある伝統的な柄を融合させてチマヨ柄と呼ばれる独特な模様を造りました。チマヨ柄のチマヨの織物はこの地域を代表する工芸品です。
この街にはサントワリオ・デ・チマヨと呼ばれる「奇跡の砂」で有名な小さな教会があります。毎年復活祭にはこの小さな教会に数万人とも言われる人が集まり、祈を捧げます。
---
Chimayo
チマヨは織物と信仰の街です。
大自然に囲まれて、普段は静かなたたずまいを見せています。
奇跡の砂伝説はこちらへ

---
EL Santuario de Chimayo
この教会には、キリストにまつわる「奇跡の砂の伝説」があります。
毎年復活祭の週末になるとこの小さな教会に数万人に及ぶ巡礼者が集まります。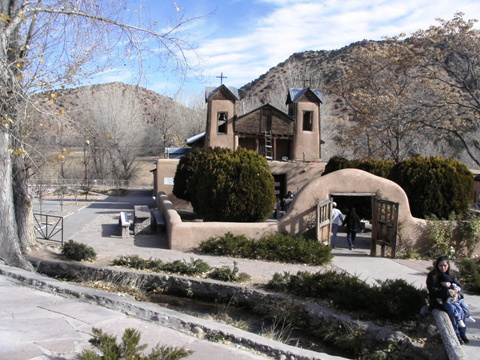 ---
チマヨ織
chimayoはそのユニークな織物が有名です。それは毛が長いチュロという羊の毛を使って織られます。
ネイティブ・アメリカンの伝統的な織物の色や柄が、植民地時代のスペインの影響を受けて、独特の色とパターン(柄)が生み出されました。
それらはRio Grande, Saltillo, Vallero, Chimayoなどと呼ばれる独特のパターンで構成されています。
伝統的なスタイルから現代の斬新なデザインまで、多くの作家が活躍中です。
ここにあるチマヨ織は品質が高く、高価な値段で取引されています。

伝統的なデザイン柄は4種類。
・サティロ
・チマヨ
・バレロ
・リオグランデ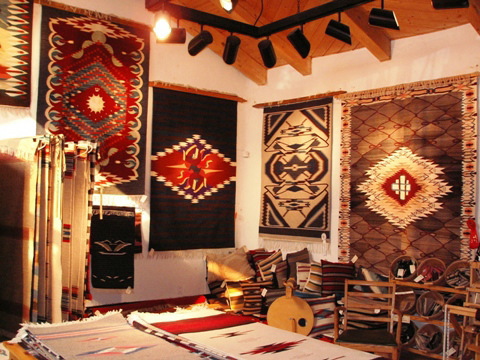 ---

Saltillo
The original Saltillo were woven as serapes in Saltillo, Mexico during the eighteenth and nineteenth centuries.
These were extremely fine and detailed tapestries, and always highly
prized. Saltillo designing moved north with trade and was adopted by Rio Grande weavers. The Saltillo system consists of a (usually)
diamond-shaped center design with a vertically structured worked
border.

Chimayo
The Chimayo style is a relatively modern development. It uses elements
of Saltillo and Rio Grande designs and occasionally Indian and modern
designing to achieve a unique Southwestern feel. The style develop after
New Mexican weavers found commercially woven blankets replacing their
original product, the Rio Grande blanket. Anew demand came from people
who wanted their work for decorating their homes with Southwestern art.
And so the Chimayo industry was born.

Valero
This style was developed during the second half of the nineteenth
century in the Las Trampas-El Valle area of north New Mexico.
Related to the Saltillo style, it is identified by use of an eight-
pointed star much like a common quilting design. Many Valleros and one
central star.
This Variety we call a Trampas-Valero.

Rio Grande
The Rio Grande style of weaving is one of the earliest styles developed
among weavers in Northern New Mexico and Southern Colorado.
The design form is dominated by stripes and sometimes uses elements
drawn from the Saltillo style within its stripes.